GEIPEL® strip ceilings in accordance with TAIM quality standard
GEIPEL®strip ceilings have been the optimal solution for excellent ceiling design for many years. Our panel ceilings realised as innovative design solutions set visual accents in numerous high quality projects.
GEIPEL® strip systems are the perfect choice for office rooms, boutiques, shopping centres, sports halls, swimming pools as well as for residential living spaces.
The module widths, colours and shapes available allow for virtually limitless possibilities for creativity in ceiling design.
The advantages of GEIPEL® strip ceilings include:
the good price-performance ratio as a cost-effective system
the easy installation and the low weight of the complete ceiling
the ideal use for the renovation and refurbishment of rooms and halls
a single universal carrier rail for 4 different strip widths
very good packaging system of the high-quality ceiling strips
We produce out panel ceiling as open or closed panel in different widths and colours and in unperforated or perforated versions. Our standard colour is Geipel standard ceiling white.
The perforated strip combined with an acoustic fleece naturally create good room acoustics. Standard perforation is the perforation rd 2016. The hole diameter is 2.0 mm with a free cross-section of 16% .
As highlight, we offer our perforation pico 0.5, with which we achieve good sound absorption without the addition of an acoustic fleece. Millions of these very fine Pico punch holes ensure viscous friction at the hole edges when sound is passing through, thus reducing sonic energy. The holes in the ceiling are barely visible to the eye.
For applications as ceiling linings in sports halls, our ball impact proof and shock resistant sports strip ceiling is your first choice. It is a tried and proven solution with a modern design and robustness that resists even the hardest ball impacts (tested according to DIN and EN standards), at the same time ensuring a good acoustic balance. Smooth and also perforated versions of the colour-coated steel strips create a good look and can also be equipped with state-of-the-art heating and cooling technology.
Our ceiling system has been tested regarding the safety of both players and spectators in sports halls and has a proven resilience. Our extremely rugged construction has resisted handball throws with an impact speed of up to 60 km/h without any objections and has easily passed the tests proving ball impact resistance according to DIN 18032, part 3, and shock resistance and meets the requirements of DIN EN 13964, Appendix D, class 1 A.
Strip ceilings types and modules
Strip ceilings with open joint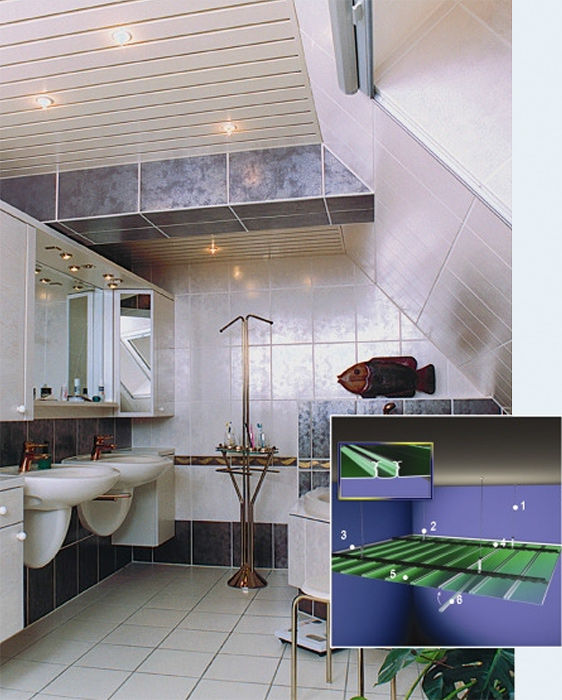 Suspending wire
Rapid suspender
Wall angle
Universal carrier rail
Strip open joint
Joint filling section
Strip ceilings closed joint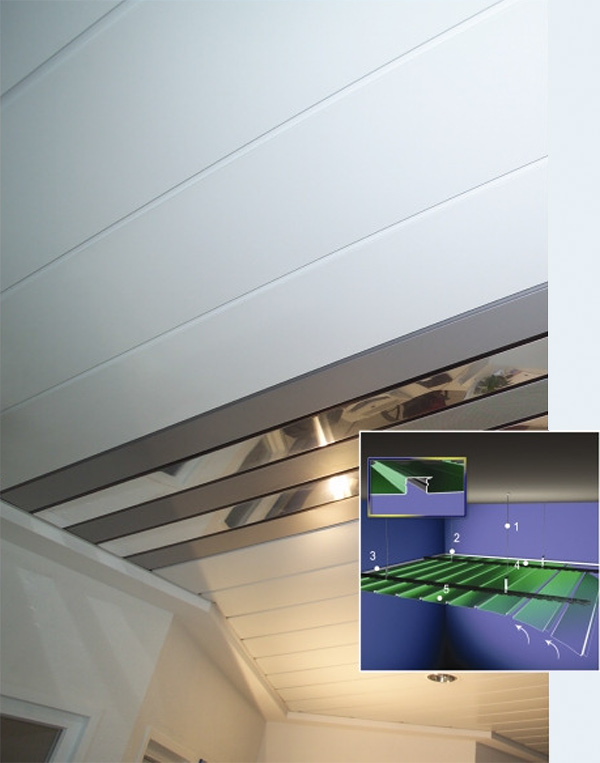 Suspending wire
Quick hanger
Edge angle
Supporting rail
Strip closed joint
Perforation and acoustics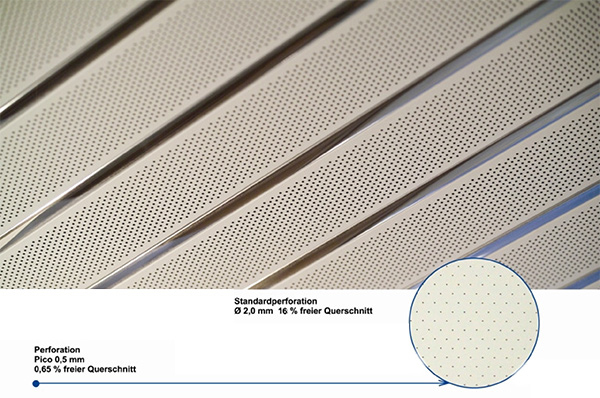 Strip ceilings installation and calculation aid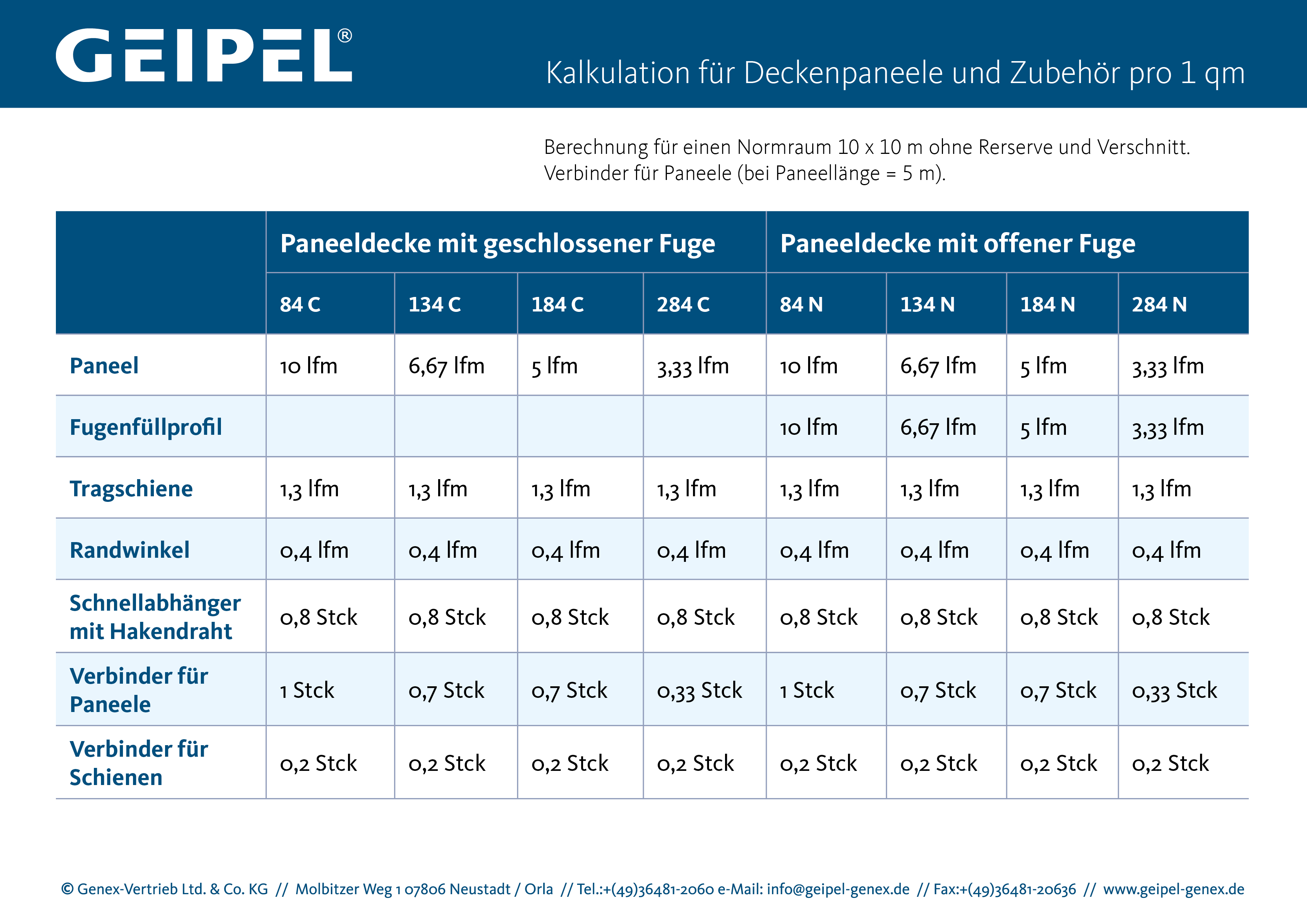 Strip ceilings installation and calculation aid
Step
On the desired hanging height the edge angle is mounted all around in the room.
Step
The carrying rails are mounted in parallel with a maximum distance of 1250 mm by means of the quick hangers on the ceiling. The distance between the hanging points must also not exceed 1250mm.
The distance of the last hanger to the wall can be max.400 mm.
Step
strip ceiling are clamped and adjusted in the carrying rail.
Strip ceilings accessories
Ball impact proof steel strip ceilings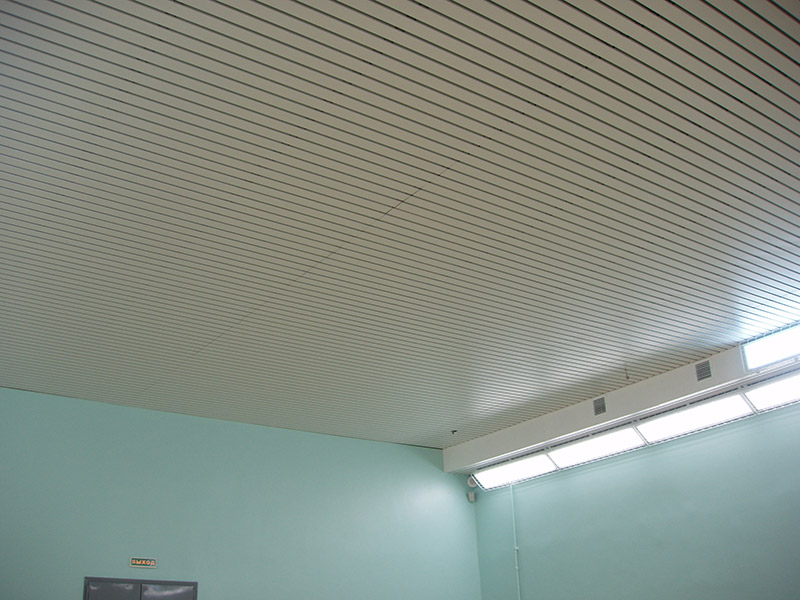 With our Ball impact proof steel strip, slim strip with 80 mm width give the ceiling view. With a joint of 20 mm, the module width is 100 mm. The strips are clipped into the stable support rail. The system is secured by easy fixation of the fuse tabs. No additional clips or elements are required. This means saving time and money.